Risk Register
The Risk Register is common to M_o_R and in Prince2 and its purpose is to document all of the risks that have been identified as having an impact on the objectives of the organisational activity.
In Prince2 the Risk Register (also known as the Risk Log) is created in the Initiating a Project Process along with the Project Brief, it records details of all the risks identified at the beginning and during the life of the project, their grading in terms of likelihood of occurring and seriousness of impact on the project, initial plans for mitigating each high level risk, the costs and responsibilities of the prescribed mitigation strategies and subsequent results.
The Risk Register should be maintained throughout the project or activity and will change regularly as existing risks are re-graded in the light of the effectiveness of the mitigation strategy, and new risks are identified.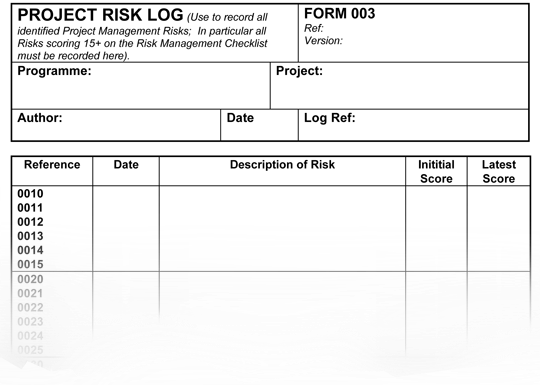 It usually includes:
who is responsible for managing the risk;
an outline of proposed mitigation actions (preventative and contingency); andin larger projects, costings for each mitigation strategy.
Suggested content:
A unique identifier for each risk
Risk type or category
where indication helps in planning responses, these categories may be derived from a risk breakdown structure or other type of risk prompt list,
Risk Owner Raised by (person)
Date identified or raised
Date last updated
A description of each risk cause, risk event and impact
Cost if it materialises
Probability
The probability recorded will be selected from the scales described in the Risk Management Strategy. Record pre- and post-response action probabilities.
Impact
The impact will be selected from within  the scales described within the Risk Management Strategy. if it does occur (low, medium, high)
Proximity
Possible response actions
Chosen action
Target date
Action owner/custodian (if differs from risk owner)
Closure date
Cross references to plans and associated risks and may also include Risk Status and Risk Action Status
A grading of each risk according to a risk assessment table
example a:
Rating for Likelihood and Seriousness for each risk

L

Rated as Low

E

Rated as Extreme (Used for Seriousness only)

M

Rated as Medium

NA

Not Assessed

H

Rated as High
example b:
Grade: Combined effect of Likelihood/Seriousness

Seriousness

Likelihood

low

medium

high

EXTREME

low

N

D

C

A

medium

D

C

B

A

high

C

B

A

A
example c:
Recommended actions for grades of risk
Grade
Risk mitigation actions

A

Mitigation actions, to reduce the likelihood and seriousness, to be identified and implemented as soon as the project commences as a priority.

B

Mitigation actions, to reduce the likelihood and seriousness, to be identified and appropriate actions implemented during project execution.

C

Mitigation actions, to reduce the likelihood and seriousness, to be identified and costed for possible action if funds permit.

D

To be noted – no action is needed unless grading increases over time.

N

To be noted – no action is needed unless grading increases over time.
Why would you develop a Risk Register?
A Risk Register is developed to:
Provide a useful tool for managing and reducing the risks identified before and during the project
Document risk mitigation strategies being pursued in response to the identified risks and their grading in terms of likelihood and seriousness
Provide the Project Sponsor, Steering Committee/senior management with a documented framework from which risk status can be reported
Ensure the communication of risk management issues to key stakeholders
Provide a mechanism for seeking and acting on feedback to encourage the involvement of the key stakeholders
Identify the mitigation actions required for implementation of the risk management plan and associated costings.
Fitness for purpose checklist:
Is the Risk Register part of a framework for managing risk?
Does the status indicate whether action has been taken or is in a contingency plan?
Are the risks uniquely identified (including to which project they refer if the risk relates to a programme)?
Has each risk been allocated an owner?
Is access to the Risk Register controlled?
Are activities to review the Risk Register in the Stage Plans?
Have costs been identified for each risk as a 'risk allowance'?
Elements to remember
Any changes to the reviewers must be reflected in the Quality Register under Roles and Responsibilities. (16.4.1)
Issues and risks can be raised by anyone involved in the project or its stakeholders throughout its lifecycle.
It should be the first stop when taking over an ongoing project.
And finally
The Risk Register is one of the source documents for the End of Project Report
Related Posts via Categories